Concerts at Cope-a-Cabana offer you the most exquisite and intimate setting and exhilarating and sumptuous musicianship!
Are you a musician?  Want to perform at Cope-a-Cabana? Please contact us.
Upcoming Concerts
Watch this space for more live shows as soon as permitted!
---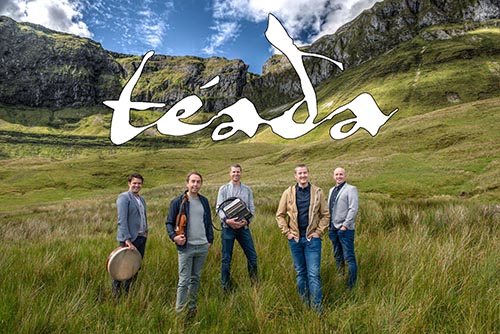 Teada Concert in San José
Tuesday, February 25th at 7:00 – 10:00 PM
Presented by Cope-a-cabana and AmeriCeltic
Potluck: 7:00 – 8:00 PM | Concert 8:00 – 10:00 PM
$20 Cash at the Door | RSVP for Teada Concert: RSVP@Cope-a-cabana.com
One of the preeminent Celtic bands on the circuit, Teada, led by fiddler Oisín Mac Diarmada, has performed extensively world-wide as headliners at many major festivals earning a reputation as one of the best – if not the best – Irish Trad bands playing today! We are very fortunate to have them perform for us here in the South Bay!
'There's a rich sense of continuity in the sets and of boundless energy bereft of egotism in the playing.' Siobhán Long, The Irish Times (4-star Review)

'At the cutting edge of the next generation of Irish musicians … with a fierce familiarity with the old ways.' Irish Music Magazine
If you have attended any of the Irish Christmas In America concerts over the years, you will recognize Oisín and especially his spouse, dancer Samantha Harvey, who hails from the Monterey Bay Area.
Check out their performance for live TV in Ireland Click Here
More on the Teada website: http://teada.com/
For more on Bill's Celtic House Concerts, check the Cope-a-cabana Facebook Page here!
---
Gangspil Concert in San José
Sonnich Lydom & Kristian Bugge
Friday, February 21st, 8:00 PM
Potluck: 7:00 – 8:00 PM | Concert 8:00 – 10:00 PM
$15 Cash at the Door | RSVP for Gangspil Concert: RSVP@Cope-a-cabana.com
'Two of Denmark's leading folk musicians take you along on a tour around the music traditions of their home country!'
For many years Sonnich Lydom (accordion, harmonica, vocals) and Kristian Bugge (fiddle, vocals) kept meeting in many corners of the blooming Danish folk scene, often when there was a jam session going on and finally decided to bring some of that fun to the stage. After playing and touring together since 2015, they've built a following in both Europe and North America.
Sonnich Lydom (accordion, harmonica) and Kristian Bugge (fiddle) deliver an entertaining and variated journey through the traditions of Danish folk music, performing old dance tunes and songs from every corner of their Scandinavian home country. From rural islands like Læsø to the metropol Copenhagen, including a few of their own compositions. Expect everything from wild polkas and jigs to lyrical waltzes, fiery reels and happy hopsas, plus the exotic 'Sønderhoning' dance tunes from the famous Island of Fanø, and long forgotten songs from all over the country. An unforgettable live experience spiced up with humor and stories from their many years on the road.
Watch Gangspil Videos: http://bit.ly/2NrW3no.
Sonnich is a master of Irish, French-Canadian, and especially Danish traditional tunes. During the last 25 years he's been leading the revival for diatonic accordion and harmonica in the Danish folk music. Sonnich holds a special place in his heart for the music from the Western Island of Fanø, where his family is deeply rooted.
He is best know from his work with the ULC trio and later quintet (adding jazz pianist Peter Rosendal and bassist Mads Vinding). ULC recieved the Danish Music Award (Danish 'Grammy') in the category 'Folk Album of the year' in 2001 and 2004.
Kristian has specialized in the strong Danish folk music traditions. He is very active on the Danish and Scandinavian folk music scene as well as in the rest of Europe and North America, both as a musician and teacher, and his debut CD was awarded 'Danish debut of the year' and 'Danish Folk Instrumentalist of the year' at the Danish Music Awards Folk 2006. At the same occasion in 2012, Kristian received the prize as 'Danish Folk Artist of the Year and latest in 2016 he was awarded 'Danish Folk Musician of the Year'. More info: www.kristianbugge.com
More info on the Gangspil Facebook Page, www.facebook.com/traddk or Website, http://www.trad.dk
For more on Bill's Celtic House Concerts, check the Cope-a-cabana Facebook Page here!
---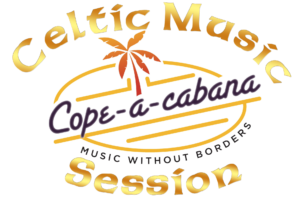 Celtic House Session in San José
Hosted by Bill Cope
Tuesday, November 19th at 6:30 – 9:30 PM
Presented by Cope-a-cabana and AmeriCeltic
Slow Session begins: 6:30 PM
Over the past two years, San José fans of traditional music have gained a new venue, through the good works of local lad Bill Cope and his bed and breakfast, Cope-a-cabana! in San José.
Now, Bill is opening up this great venue for a Celtic House Session, Please remember to RSVP, with an email to Bill at RSVP@cope-a-cabana.com then bring your own beverages and snacks and join us for an evening of Celtic Tunes and Songs lead by Bill Cope on Tuesday, November 19th at 6:30 PM at Cope-a-cabana!
Bill says,
'We will begin with a 'slow-session', then progress to a faster pace later as participants can agree. At my session, Charts/Lead sheets and Printed Lyrics are all OK.'
For more on Bill's Celtic House Session, check the Cope-a-cabana Facebook Page here!
---
Autumn Rhodes and Tim Hill
with Richard Mandel
Friday, October 25th, 7:30 PM
Doors open: 6:30, Concert 7:30-9:30
RSVP for Autumn Rhodes and Tim Hill with Richard Mandel: RSVP@Cope-a-cabana.com
Autumn Rhodes and Tim Hill are a musical duo steeped in the traditions of Ireland dating back over 200 years. The pairing of Autumn's heavily rhythmic style on the concertina and flute mixed with Tim's relaxed yet deadly accurate uilleann piping results in a graceful and infectious sound that has drawn rapt audiences from both sides of the coast and the Atlantic. They continue to perform throughout the United States, primarily in the San Francisco Bay Area, the Midwest, as well as in northern New England. Well known guitarist Richard Mandel will join in to complete the trio.
Watch the promotional Video: https://youtu.be/VmVlJoWlsoQ
More on their Facebook Page: https://www.facebook.com/hillandrhodes
Tickets sliding scale $15 – $20 cash at the door. Reserve your place NOW! with an email to Bill at RSVP@cope-a-cabana.com.
Autumn Rhodes was raised in a rural Indiana household full of Irish music. At the age of 12, Autumn got a tin whistle for a birthday present and a year later was performing professionally, shortly after, progressing to the flute and concertina and learning from master players such as Laurence Nugent, Kevin Henry, and John Williams. Autumn is equally renowned as a singer in the sean-nos style of Irish tradition.
Born in the Philadelphia area, Timothy Hill has spent the last decade studying and performing Irish traditional music. Tim started his career with Irish music on bodhrán, and at the age of 11 took up the uilleann pipes. With years of tutelage from John Donnelly, Jerry O'Sullivan and Tim Britton, and performances with Mick Moloney, Paddy Keenan, Teada, Billy McComiskey, Tony DeMarco, Seamus Begley, Gabriel Donohue to name a few, Tim has become one of the top young pipers in America.
Richard Mandel fell into the well of Irish music in the mid-'90s and was soon driving every session he could get into. As a first-call accompanist, Richard has performed with legendary Irish musicians including Paddy Keenan, Jimmy Keane, Gerry O'Connor, Mick Maloney, Paddy O'Brien, Tony DeMarco and many others. Richard plays in the trio Three Mile Stone with mandolinist Marla Fibish and fiddler Erin Shrader. Three Mile Stone released its debut CD, produced by John Doyle, in March 2010 and has received rave reviews. In addition to Three Mile Stone, Richard can be heard on Christa Burch's CD 'Love of the Land', Radim Zenkl's, 'Restless Joy', and Tipsy House's CD, 'Sets in the City.'
---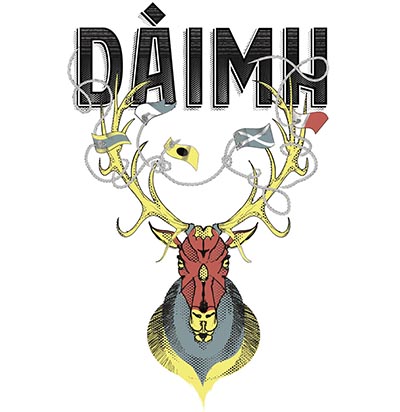 Dàimh
Friday, September 27th, 2019
Doors open: 7:30, Concert 8:00-10:00
Dàimh – Gaelic Supergroup and un-challenged champions of straight in the eye Highland music are based around West Lochaber and the Isle of Skye. Formed around the turn of the century and taking the name from the Gaelic word for 'kinship' Dàimh (pronounced Dive) have taken their contemporary take of Highland and Gaelic music to over 20 countries, setting audiences alight from Moscow to San Francisco.
Click for a video of Dàimh doing Dhannsamaid le Ailean at Celtic Connections 2016.
Tickets $20 cash at the door
With a reputation as giants of the Bagpipes and Fiddle, Angus Mackenzie leads the melodic powerhouse on bagpipes and whistles with fellow founder member Ross Martin underpinning the groove on the Guitar. The Band are joined by 'new guy' Murdo 'Yogi' Cameron on Mandola and Accordion and Alasdair White on fiddle to complete the instrumental line up. Dàimh have always had the renown and notoriety of working with some of the finest Gaelic singers in Scotland and the current line up only serves to cement that distinction with the addition of the Gaelic firmament's most rapidly rising star, Ellen MacDonald on vocals.
Check out the Dàimh Website.
---
New World String Project
Saturday, September 21st, 2019
Doors open: 6:30, Concert 7:30-9:30
The New World String Project brings together four mighty players who weave a shimmering sonic tapestry from Celtic, Nordic and American folk traditions. Fiddler John Weed and guitarist Stuart Mason also play together in the long-running Celtic band Molly's Revenge. And Celtic harp master Lisa Lynne, who gained international renown via recordings and tours with the label Windham Hill, often performs in a duo with NWSP-mate Aryeh Frankfurter, an expert on harp and Swedish nyckelharpa. Together, these intrepid string explorers take audiences on a thrilling, melodically exuberant musical ride.
Click Here for New World String Project videos.
Tickets $15 cash at the door
Check out all their info at https://newworldstringproject.com, or email Lisa Lynne
---
Windborne
Friday, September 20th, 2019
Doors open: 6:30, Concert 7:00-9:00
The internationally acclaimed vocal ensemble Windborne is a group of vocal chameleons who specialize in close harmony singing, shifting effortlessly between drastically different styles of traditional music within the same concert. Their musical knowledge spans many continents and cultures, but they remain deeply rooted in American folk singing traditions. Praised for 'the purity of their voices, strength of their material, and attention to detail in their arrangements,' Lynn Mahoney Rowan, Will Thomas Rowan, Lauren Breunig, and Jeremy Carter-Gordon share a vibrant energy onstage – their connection to each other and to the music clearly evident. They educate as they entertain, telling stories about the music and explaining the characteristics and stylistic elements of the traditions in which they sing.
Click Here for Windborne videos.
Tickets sliding scale $15 – $20 cash at the door
Much more on the Windborne website.
---
Erica and Friends
Sunday, September 15th, 2019
Erica and Friends is a Berkeley based folk and traditional band that you really should hear if you get the chance.
Last Fall, Erica and Friends issued their debut album, Hillside Avenue, showcasing their distinctive, upbeat mix of jigs and reels, pub songs and ballads from around the British Isles and Ireland, at the Pleasanton Highland Games.
Tickets $15 cash at the door
For Erica Hockett and Friends videos, just Click Here!
Erica Hockett — Vocals/Bodhràn Erica Hockett grew up in Chipping Norton, Oxfordshire, nestled in the English Cotswolds, home of Fairport Convention. Growing up singing in the local pubs, Erica came to love folk music from the British Isles and Ireland, especially the tales of woe and the history embedded in the old ballads. Erica met Anne Goess while performing in The California Revels vocal ensemble.
Anne Goess — Violin/Vocals/Tin Whistle Fiddler Anne Bingham Goess has played for many a ceili, English Country and contra dance in the Bay Area, with The Raggedy Annes and Raven Hill, among other bands. She has also arranged instrumental music for several theater productions, including Bloomsday and a commemoration of the Easter Rising. When she's not fiddling, she's singing with the Christmas Revels and directing the Revels Solstice Singers, a traditional music vocal ensemble that entertains year-round. For more on Anne, Click Here.
Chris Hammond — Guitar/Vocals Chris Hammond's first musical love is Bluegrass and Appalachian music. He plays several acoustic guitars, including a beloved model made in the 1930s, and he loves to sing those high lonesome harmonies.
Charlie Hancock, — Accordion/Keyboards Charlie plays with The Bogues, an SF based Pogues cover band and for Contra and International Folk Dance in and around the Bay Area from his base in Berkeley.
Jason Courtney, — Bouzouki Jason is a seasoned player at Bay Area sessions and has played in the Elderberries band.
For more on Erica and Friends, check their Facebook Page here! | For even more music, check their Soundcloud site, or
their Reverbnation site!
---
The Harmony People
Sunday, August 4th, 2019
2:30 PM – 6 PM
Snack & dessert pot luck 2:30-3:30 Concert 4:00-6:00
Gary Garrett and Anjalisa Aitken have both been singer-songwriters for many years. Five years ago, Gary was performing one of his songs and Anjalisa began singing harmony, full voice, from the audience. They have been touring, writing and recording together ever since. Their songs feature innovative harmonies, a beautiful vocal blend, and Gary's tasty guitar playing. Their lyrics tell tales of love, flying dreams, post-apocalyptic road trips and the healing power of nature. Tears and laughter often flow. A Harmony People concert is beautiful, powerful and fun. More at: theharmonypeople.com
---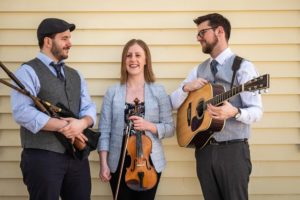 Miller – MacDonald – Cormier
Thursday, May 16th 2019
Doors open: 6:30, Concert 7:00-9:00
Ben Miller & Anita MacDonald have become renowned across Canada and further afield, for their synergistic approach to traditional Scottish music. Blending Scottish Lowland pipes with Cape Breton fiddle, Gaelic song and step-dance, Ben and Anita join together the threads of Old and New World traditions, while constantly exploring new ways to bring their instruments closer together. Their music has been hailed as "Playful, poignant, and passionate all at once' — "Fresh, yet totally traditional." 
As well as performing as a duo, Ben and Anita tour as a trio with their latest project, Miller – MacDonald – Cormier. This project formed as a collaboration with Zakk Cormier, an Acadian multi-instrumentalist from Prince Edward Island. A dynamic musician with deep roots in his own Franco-Celtic tradition, Zakk brings his talents as a sympathetic guitar accompanist, as well as the driving rhythms of Acadian foot-percussion.   
With their new album, "South Haven", this trio has created a powerful sound, transcending the boundaries between Cape Breton, Scottish, and Acadian traditions. Their live show has captivated audiences across the globe, from British Columbia and California, to Austria and Denmark.
INSTRUMENTAL GROUP OF THE YEAR (2018) 
Canadian Folk Music Award Nominee 
ROOTS TRADITIONAL ALBUM OF THE YEAR (2018) 
Music Nova Scotia Award Nominee 
GAELIC ARTIST OF THE YEAR (2019) 
East Coast Music Award Nominee
INSTRUMENTAL RECORDING OF THE YEAR (2019)
East Coast Music Award Nominee
Join the Cope-a-cabana Facebook group and visit Cope-a-cabana.com
---
Frankie Gavin
Sunday, February 10th, 2019
Potluck 6:30 to 7:30 PM, Concert 8-10 PM
Presenting you the Irish music hall of traditions and innovation! Don't miss Irish fiddle legend, Frankie Gavin in concert at Cope-a-cabana Sunday, February 10th, 2019!  Reserve your seats by sending an email to RSVP@cope.electricembers.net.  (Facebook event)